All the versions of this article : English Français
---
Here listed groups i have the chance to be part of, sometimes as a leader.
From 3 to 12 musicians, many styles from West coast jazz to compositions and some tributes, and groups with international great players.
---
Debussy and the jazz
Debussy-Jazz trio
Anne Warthmann, chant lyrique
Michael Cheret, saxophone soprano
Cédric Granelle, piano, arrangements
Debussy's music comes at the end of 19th century. His music closes the romantism period and opens to new langages of 20th siècle. There is sensuality in his harmonies, freedom about time and poetry references. It will soon take the name of impressionism.
Debussy's influence on the new esthetism of 20th century is huge, beggining on jazz music. Duke Ellington, Bill Evans or Herbie Hancock declade to be influenced by Debussy.
The group here is about this relationship between Debussy and jazz. Lyric singer Anne Warthmann, pianist Cédric Granelle and saxophonist Michael Cheret play the music of Debussy and then take it forward into jazz improvisation.
The listener is invited to go along and take this passage point in between music and poetry, writing ans improvising classical and jazz.
---
We Five featuring Jim Rotondi
Jim Rotondi, international trumpet jazz player, is on the jazz scene from more than 20 years, as a leader and as sideman of the greatest such as Ray Charles. His personal playing, powerfull and full of swing reminds the great Freddie Hubbard and all the jazz legends. He's definitely part of the great jazz players.
Graduated of North Texas university, he win in 1984 International Trumpet Guild's Jazz Trumpet Competition.
Then he moves to New York and paly and record with great jazz players– Ray Charles big band, Lionel Hampton, Toshiko Akiyoshi, Bob Mintzer, and smaller combos such as Charles Earland, Lou Donaldson, Curtis Fuller et Joe Chambers. Jim actually leads two groups : a quintet with Joe Locke, and more electric Full House, with pianist David Hazeltine. He is a main member of the sextet One For All with Eric Alexander (saxophone), Steve Davis (trombone).
Jim took part in more than 70 albums such as Charles Earland's on Highnote Records label
We Five is a quintet around Jim and his hard-bop modern music. The group has this typical New-york energy and the Blue note spirit. With André Michelutti, italian drummer we can also hear by side of the great Jerry Bergonzi, Olivier Truchot, pianist virtusoso, Brice Berrerd, powerfull and surprising bassist , and Michael Cheret, tenor sax in between tradition et modernity, with an intense sound, typical of the great tenors who he learned with.
Musiciens :
Jim Rotondi (trompette)
Michael Cheret (sax ténor)
Andréa Michelutti (batterie)
Olivier Truchot (piano)
Brice Berrerd (contrebasse)
---
Baldet- Cheret Quintet / Al Cohn Zoot Sims Tribute
Ivan Baldet and Michael Cheret plays the great compositions of Al Cohn, who wrote for 2 tenors especially for his friend Zoot Sims. Incredible music from two extraordinary tenors comtemporary of Coltrane and Rollins.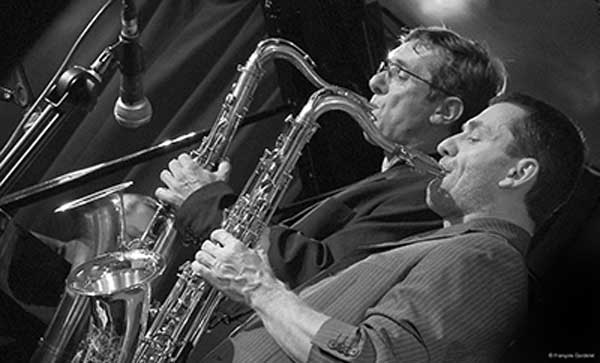 The music of the Al Cohn quintet, faithfully transcribed and played by the group, reveal all the originality and the elegance of these two tenors who were part of the « four brothers » , with Stan Getz . They were kings of the West coast jazz, creators of the jazz cool
Musiciens :
Ivan Baldet (sax tenor)
Michael Cheret (sax tenor)
Eric Maiorino (guitar)
Alain Riondet (batterie)
Laurent Courtois (contrebasse)
---