All the versions of this article : English Français
---
Michael's career: from his studies at the Conservatoire Superieure de Paris (CNSM) to his participation in the best jazz orchestras: Damon Brown, Jim Rotondi, Frank Lacy, Ludovic de Preissac, his eclecticism until the first concert Part of James Brown and finally his career as a leader and composer.
---
Michael Chéret was born in France in 1974
He studied saxophone at Paris Superior Conservatory with Francois JEANNEAU and with Adam Nussbaum, Richie Beirach, Johnny Griffin, Denis Chambers, Daniel Humair, Riccardo Del Fra, Kenny Wheeler…Then he had the chance to study with master Jerry Bergonzi.
After being a influent alto sax player in Paris for years, he is nowadays a main tenor sax player in France, givin' a new soul to his music.
He also plays soprano sax, composes and teaches, and is a Vandoren Artist.
Now playing as a leader of his new quartet with guitar, for who he writes original music.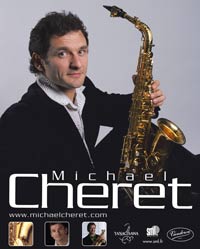 6 albums as a leader and composer.
He leads the great Vandojam, Jam-session of Paris at SUNSET jazz club, in partnership with Vandoren, once a month since 2005, more than 12 years !
Member of Jim Rotondi European jazz cats, he also plays with Damon BROWN (trumpet UK) , Franck Lacy (trombone USA) , Stephane Seva (French international crooner), he also plays with the greatest jazz musicians in France such as Ludovic De Preissac (from 2006 to 2014, albums realised in 2007, 2009 and 2012) and travel the world for concerts and masterclass (China tour 2014 and 2015, Saxophone summit in Palmela-Portugal- with Gary Smulyan and many more)
About the ALBUMS :
First album in 2003 : MUSIC inside MUSIC
With the new french generation of jazzmen : Benjamin Henocq, Diego Imbert , Emmanuel Duprey, Airelle Besson, Thomas Grimmonprez...And special guest Riccardo Del Fra.
The second album : "SERIOUS THINGS" in quintet, has been recorded in jan 2005 for Cristal Records and is still available on Michael's website.
3rd album in 2012 : Manaverem, in witch he wrote songs for the lady singer Lou Tavano.
4th album in 2014 live in trio. Trio live vol 1, paying dues to Sonny Rollins.
5th album in 2015 : new compositions in quartet with guitar, named Together
6th album in 2016 : TRIO LIVE VOL 2. A trio without drums, around balads and bossa nova
albums as a sideman :
2006 : « le tentet au carré »
2007 : « retrouvailles » (Ludovic de Preissac)
2008 : " to Franck and Ray "(stephane Seva)
2009 : "west side suite" (Ludovic de Preissac)
2016 : Brooklin Bridge (José Caparros)
And more…
here with the great Ralph Moore